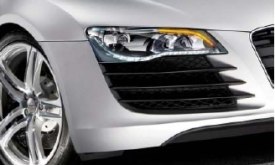 The South Korean chaebol LG Electronics and Osram are squaring up to each other – in suits and coutersuits – over the issue of LED headlights…
At the heart of the dispute is Osram purportedly infringing LG-owned patents involving LED chips and packaging technologies, and this has dragged in BMW and Audi cars featuring the contested LED technology.
 
Engadget writes:
You see, once upon a time LG was late to the LED patent game, and was content to fork over the cash to Osram for use of its tech. Skip to now, and the electronics giant's claiming it can get its lighting goods elsewhere, picking from a plethora of relevant IP-holding companies and combining that with its own patents.
Despite having already countersued Osram in July to prevent the import of that company's allegedly infringing products into South Korea, LG's gathered its legal arsenal once again to block the sale of Audis and BMWs throughout the entire country – cars that include Osram's LED tech. It's hard to imagine the courts would grant such a wide-sweeping ban on major auto players' bread-and-butter.
You can read more on the source article on Korea Times – LG ties BMW, Audi to Osram row
It writes:
Because local branches of BMW and Audi are using Osram's LED applications that infringe on LG patents, LG is seeking a complete ban on BMW and Audi car sales in South Korea, said the spokesman, Wednesday, adding Osram has infringed on seven LG patents.