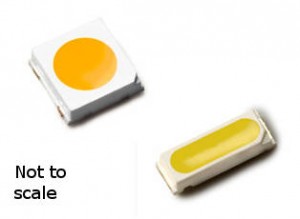 Efficacy is claimed to be up to 140 lm/W (4,000K, 100mA (6.1V) 25°C solder pad) and minimum CRI is 80 across the 2,700-6,500K range.
"Versions with CRI 70 for outdoor applications and CRI 90 for high end indoor applications are planned," said the firm
According to the firm a '50W' PAR20 lamp can be achieved using only 4 LEDs and "a 40W A19 lamp that previously required 14 LEDs can now be created using only six."
Claimed life is up to 25,000 hours at 85°C and 150mA.
Oddly, for all colour temperatures, the data sheet feels the need to defines R9 as ">0".
At the same time, it released a small rectangular (4×1.4×0.7mm) LED called a 4014. "designed to specifically to address linear and omnidirectional lighting applications such as under-cabinet and cove, refrigerator lighting and the retrofit LED market".
Following on from the R9>0 comment above, the 4014 data sheet proclaims "tested and binned hot at Tj = 25ºC and 30 mA DC".
There is one device in the range: 4,000K, 12 lm (10min) at 30mA (2.9V) and 22 at 60mA 25°C.
Delivered in a 4.0×1.4×0.7 mm footprint, the LUXEON 4014 line can achieve an efficacy of 160 lm/W at 4000K and CRI of 80.
Projected life to 70% is 30,000hr.