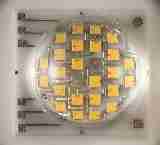 Using a multi-chip package, Cree has developed an LED that will compete with 75W light bulbs, writes Technology Editor Steve Bush.
It is called the XLamp MPL, and the 12x13mm device will eventually deliver up to 1,500 lm at 750mA, which is 75 lm/W.
Each device has three strings of eight die and at 750mA, 250mA per string, forward voltage is typically 26.5V.
He writes:
Colour binning has been simplified, under the firm's EasyWhite brand, by offering the LEDs in 2,700, 3,000, 3,500 and 4,000K colour temperatures that are in the centre of the respective ANSI C78.377-2008 bins.
Read the full article >>