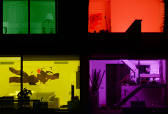 Apple and Philips have teamed up to sell iPhone-controlled LED house lights. Colour is widely-tuneable, and DIY install takes minutes.
Called Hue, made by Philips, and only sold through Apple at the moment, the system is based around a colour-tuneable 600lm LED light bulb (25-50W equivalent) that screws into E26 or E27 mains bulb holders – not bayonets.
Control is over ZigBee Light Link and 50 of the bulbs can be handled by the system's ZigBee-Ethernet bridge box, that need to be plugged into the home's existing Wi-Fi router/modem.
iPhones interact with the system through a an app and Wi-Fi. Control is also possible over the web from remote iPhones through a web page.
The starter pack (£179, $199, €199) includes three bulbs, the bridge box, and a LAN cable.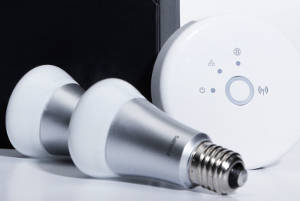 Additional bulbs, which need the bridge to function, cost £49 ($59, €59).
The app can be downloaded from the firm's website, and has four pre-programmed lighting settings based the biological effects that lighting has on the body, claims Philips. Colours can also be set using a variety of pallets including spots picked on any photo.
"Create ambience or complement your decor with the colours of the rainbow. Control and monitor your lights remotely when not at home for security and peace of mind. Set timers to help manage your daily routine. Let light wake you up refreshed or help your loved ones fall asleep," said Philips, which is working on features such as geo-location services, which could automatically turn lights on and off as you approach and leave home.
It is not yet clear if the bulbs are universal or are being sold in different versions in countries with different mains voltages.
As they uses standard Light Link, Hue bulbs can also be controlled by other ZigBee certified systems.