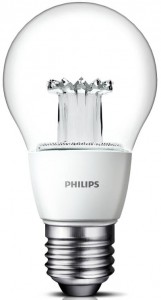 It is not the first company to do it, but it does have a nice clean look.
The spec is: 2,700K, 470 lm ('40W'), 6W input (78 lm/W), and it looks like the firm has used a light pipe with a crinkly edge to get the effect.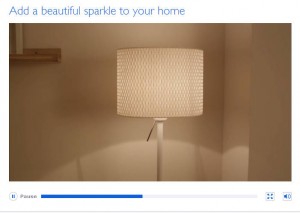 It looks great for chandeliers, but bizarrely its promotional video has the clear bulb being used in a non-clear lampshade, where no one can see it.
Inside a lampshade, you might as well use which ever source is most efficient for the price – many 6W 470 lm LED light bulbs are available.
As an aside, I continue to be amazed at the almost-opaque lampshades some folk will put a bulb in.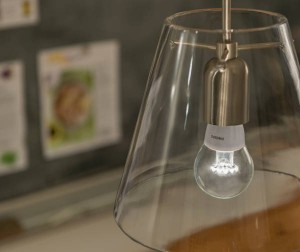 Philips also has a nice picture of one of its its clear LED bulb in a clear lampshade (right), which looks great in my opinion – although it might be a source of glare – particularly with all those lumens in one spot. I wonder if that is a lower wattage version, or artistic licence?