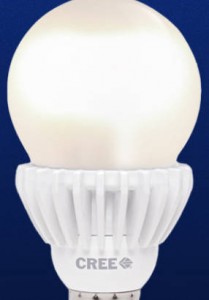 Called '3-Way Cree', the firm says it has "three light levels distinctly visible to the naked eye".
That said, the values are 3, 8 or 18W (320, 820 or 1,620 lm – which it equates to 30, 60 and 100W).
Form my experience, I think it has missed a trick here – these values are noticable, but are only 1:2 steps in power which will be perceived as less due to the eye's log(ish) response.
At least 1:4, imho, would be better – 6, 25, 100W equiv – far more useful in the home – but would not look so good to the uninitiated when buying in a well-lit shop (retail store to US readers).
Switch flicking is a great way to change bulb intensity – simple to implement in existing infrastucture and not consuming vampire power.
Although it is probably not so great for multiple bulb installations if they get out of synch.