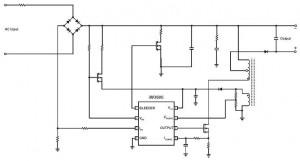 Configurable temperature de-rating is included to prolong electrolytic capacitor life in poorly-ventilated applications.
"Designed for retrofit bulbs including external, dimmable lighting ballast drivers and A19, PAR and T8 bulb replacements used in existing phase-cut dimmer installations, the iW3600 incorporates intelligent dimming control to provide compatibility with a range of dimmers, including triac, digital and universal dimmers. This technology uses digital analytics to query the dimmer and applies algorithms that automatically adapt to the dimmer type," said Dialog. "Over-temperature de-rating monitors the temperature inside the sealed SSL bulb and automatically reduces current drive to the LEDs in small, virtually imperceptible increments, then restores brightness as temperature falls."
Leading-edge dimmers (R-type or R-L type) and trailing-edge dimmers (R-C type) are accommodated.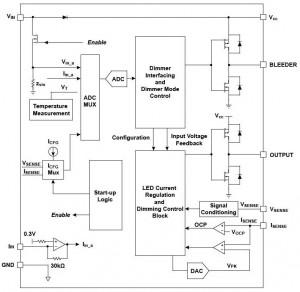 "When no dimmer is on the line, iW3600 optimises power factor and minimises the current harmonic distortion to the AC line. Furthermore, in no dimmer condition, output current is regulated at nominal output current value over a wide input voltage range," said Dialog.
From the mains point of view, total harmonic distortion is under 20% and power factor is over 0.92.
This is a single stage design, so output flicker will depend on the size of the output capacitor.
European Union IEC61000-3-2(2) current harmonic compliance is claimed, and dimming curves are said to be compliant to NEMA SSL 6(1).
It comes in an 8 pin SOIC