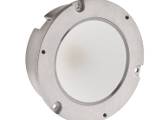 Cree has extended its LMH2 lighting module family, with 2,000 and 3,000 lm output options, and will be showing them at Light+Building in Frankfurt, writes Steve Bush.
Supplied as a fully-enclosed 76mm diameter emitter (88mm flange), the modules are chip-maker Cree's way of gently introducing LEDs to luminaire manufacturers
The emitters require separate mains power supplies, and enclosed screw-down 120V (60Hz) 230V (50Hz) and 277V (60Hz) PSU blocks are also available from Cree.
"The LMH2 module separates the light source and power supply to enable a selection of mounting and wiring options, giving lighting manufacturers the flexibility needed for luminaire design and development," said the firm. "It is the industry's only LED module family delivering 82 lm/W efficacy combined with a CRI greater than 90 in all available colour temperatures."
Primary thermal management is included "potentially eliminating the need for costly secondary thermal management systems", said Cree.
Colour temperatures of 2,700, 3,000, 3,500 and 4,000K are available, and the module is available with DALI (digital addressable lighting interface) and DALI touch dimming – dimmable to 5%.
Design life is 50,000 hours of operation.
"Luminaire makers seeking Energy Star qualification will have access to specification and performance data, including LM-80 reports, which can speed regulatory approvals," said Cree.
Samples are available now, and production quantities are available with standard lead times.
Cree is in Hall 4.2 Stand G71 at Light+Building.
Steve Bush