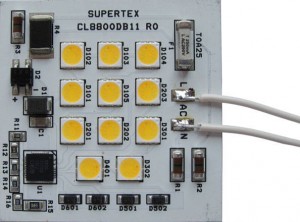 Linear regulation usually means dreadful efficiency, but Supertex has a neat trick where its CL8800 'sequential linear LED driver': it switches series strings or LEDs in and out through the mains waveform.
The result is that the linear regulator only ever has 10 or 20V across it and LEDs and "an electrical efficiency of 85% is achieved with up to 1,600 lm output, while reaching >120 lm/W", said Osram on its 'LED light for you' website.
As it presents essentially a constant current load to the mains, power factor is >0.95 with <20% THD line current.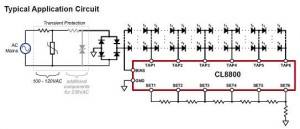 The diagram simplifies things a lot and in practice there are more LEDs in some strings than others.
There are 11 of Osram's recently-released Duris S8 LEDs in the reference design, which are 5.6×5.2mm devices with either six or eight die inside (18.6-22.2V or 24.8-29.6V, 390 or 500 lm (typical 25°C 3,000K))
"The module is very compact [50x50mm] and requires no external components, it fulfils all EMI standards and conducted emission is near to zero. It is fully isolated, can be directly mounted on a heat sink and has an automatic current derating at high temperature," said Osram. "With selected dimmers, phase dimming is possible, too."
Measurement results including driver:
4000K, 11W: 1,435 lm, 131lm/W
3000K, 11W: 1,289 lm, 117lm/W
4000K, 17W: 2,210 lm, 131lm/W