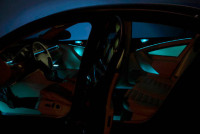 NXP has introduced a LIN bus interface chip for simple identical control nodes in cars that take their identity from their position in a daisy-chain – so called 'node position detection'.
Intended for non-critical multi-colour LED modules that the firm predicts will decorate the inside of cars (see photo below), the modules have three low-current high-side LED switches that can be used for other applications.
"Whereas interior LED modules are currently programmed during the module manufacturing process, with node position detection all LED modules can be individually configured after being mounted in the car," said the firm. "This offers flexibility while reducing manufacturing logistics."
The chip, UJA1018, is designed to work with a local microcontroller and contains all components to interface the MPU to, and protect it from, the car's LIN bus and power rails.
As such, it has LIN transceivers, a 5V regulator, a reset generator, and three low-current high-side load switches – nominally for red, green and blue LEDs.
Also on-board is the 'LIN switch' needed for NXP's take on node position detection.
Rather than the LIN bus being connected in parallel to all the nodes in the system, it is only connected directly to the first node in the daisy-chain.
Data connection to each subsequent node in the chain is via the previous node's LIN switch.
When the chain is initially set-up, all switches are open so only the first node is connected to the bus master allowing it alone to be programmed with its bus address.
Once programmed – which is entirely done by the local MPU as there is no data processing or memory in the UJA1018 – the MPU instructs the chip to close the LIN switch, passing data onto the next node, allowing it to be programmed with its address, and so on.
If the MPU has flash, nodes only need be programmed once, rather than at every power-up.
Control from the MPU to the LIN switch and load switches is through individual I/O lines, with PWM from the MPU required for LED dimming.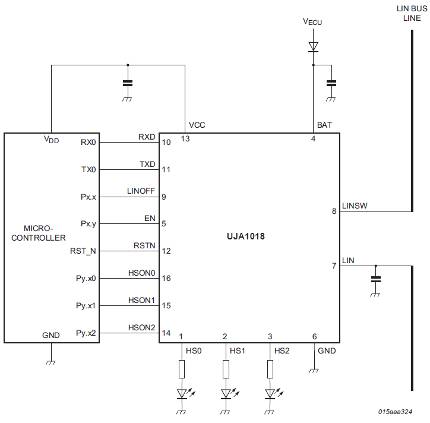 Vehicle lighting firm Hella has used the chip in a demonstrator – pictured below.