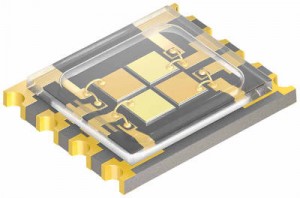 Intended for use in spotlights, it has foure die: two 2,700K warm white and two 10,000K very cold white.
The dies are paired in opposite corners of a square array for best mixing and, by varying their relative drive currents with appropriate control, colour temperature can be swept between the extremes.
CRI is 94 at the warm end shifting to 74 for cold.
Typical values are: 330lm cold and 160 lm warm with both dies on.
"Ostar Stage LEDs offer 48 million candelas per square meter [cd/m²] and tunable tones from cold white to warm white," said the firm. "Combined with their extremely low-profile design and glass cover with its anti-reflective coating, they provide the basis for compact spotlights with an extremely narrow beam."
Flat glass instead of the usual moulded primary lens improves injecting into certain lens systems.
"Its etendue in conjunction with external optics is retained, enabling a very narrow beam of light to be produced," said Osram. "This beam is smaller by factor 2 than for spotlights based on plastic-encapsulated LEDs. Consequently, the luminance of the spotlight is greater by factor 2."
Etendue is the emission angle/area ratio of the emitting light surface to the projected light surface.
By "very narrow", the firm is claiming +/- 9°.
Applications are expected in moving head spotlights on stage, for booth lighting at trade fairs and for architectural lighting.
The LED is 5.9×4.8mm, with a 1.23mm profile thanks to not having a lens.
In continuous operation the chips can handle a maximum of 900mA, typical thermal resistance is 1.8K/W, and 50,000 hours life is claimed.
This brings the Stage range to four LEDs:
LE RTDUW S2W
red (625 nm)
'true' green (527 nm)
deep blue (453 nm)
'ultra' white (Cx = 0.31, Cy = 0.32 (CIE 1931))
LE CWUW S2W – this one
Warm white x2 (Cx = 0.46, Cy = 0.41)
'Ultra' white x2 (Cx = 0.30, Cx = 0.30)
LE UW S2W
'Ultra' white x4 (Cx = 0.31, Cy = 0.32)
max efficiency 65 lm/W at 700mA
And the rather unusual LE ATB S2W
amber (617 nm)
'true' green x2 (529 nm)
blue (464 nm)
Radiating surface in all cases: 2.1 x 2.1 mm²,  with a 120° beam.