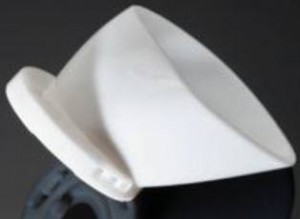 Polymer Optics managed it with its hybrid lens/reflector, and last year Ledil pulled a rabbit out of the hat with its Rita reflectors.
When describing the Rita series, wonky white funnel seems to sum it up.
Rita-A came first (left) – intended for task and application lighting.
Its funnel effectively forms a beam, and pushes it over sideways – the peak is 30° off-axis.
If on-axis straight ahead is 0°, most of the beam is between 5° and 55°.

So you can mount the light on the wall (right) and have it illuminate a table top without lighting the wall up, or mount it on the ceiling to light up a painting (see diagram) without lighting the ceiling.
It rotates to move light around, direct the light, and "Rita-A can be mounted side-by-side [on the ceiling] to illuminate long walls with minimal hot-spots or shadowing," said Ledil. "Outdoor applications include residential lamps used in urban areas or for lighting stairwells in parking garages."
Efficiency is 86%, despite having no metallisation (oddly, the data sheet says: "Reflector is made of aluminium coated…").
It is pretty small – 17.1mm tall (17.3mm with mounting tape) on a 22mm base, occupying 28.4x36mm.
The firm has qualified it for Cree XT-E, and Rebel and Luxeon M from Lumileds.
Tech specs include: use up to 115°C, UL 94 V-2 flammability rating, and moulded alignment pins.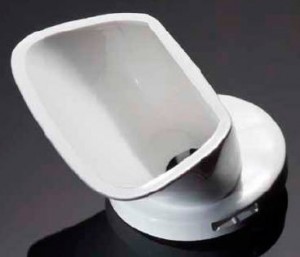 Then came the Rita-Was (both left and below), a Rita for wall-washing with a beam including 0° and extending to 40° (below, nominal offset is 20°).
Height is again 17.3 mm and it needs a 31,9×28,4mm footprint .
Stated efficiency is 85%.
Qualification, so far, is for Cree XM, XT and XP leds, Osram Oslon Square EC, and Lumileds Luxeon M and A.