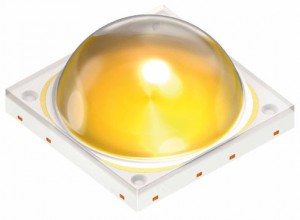 Called Duris P 10, it will be unveiled at Light + Building in Frankfurt next week.
Osram has opted for a lead-frame package which, "compared with similarly sized ceramic packages, combines improved thermal properties with excellent second board reliability", said the firm. "If very large ceramic packages are soldered onto aluminium boards, fluctuations in temperature may cause mechanical stress at the solder connections. By contrast, lead-frame packages can be optimised in terms of their thermal behaviour and their second board reliability.
The package is 7x7mm and has a copper lead-frame to get heat out.
"We were able to deliver these product benefits thanks to our automotive expertise", said Osram system expert Dr Ralph Bertram. "In developing different headlight LEDs we gained extensive experience in package technology and high-current chips."
To this, the firm added: "All the materials for the new LED are extremely robust and are therefore ideal for outdoor applications or for use in corrosive atmospheres."
Applications are expected in street lighting, tunnel lighting, and high-bay and low-bay LED lighting systems in industrial buildings.
Duris P 10 is available now, as is the smaller Duris P 8 emitting 290 lm.
450 lm Duris P 9 is in the pipeline. The Duris P website is here.
Duris P 10:
Footprint
7.0 x 7.0 mm
Luminous flux @ 5,000 K
1,100 lm typ
1,200 lm max
Emission angle
120°
Color rendering index
>70
Voltage
GW P7STA2.PM: 6 V
GW P7STA1.PM: 12 V
Colour temperature
3,000K, 3,500K, 4,000K, 4,500K,
5,000K, 5,700K, 6,500K