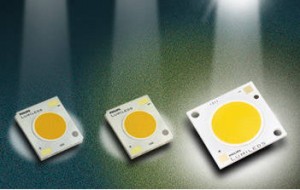 Efficacy is 93-130 lm/W, depending on colour temperature and CRI of the luminaire.
The 10,000 lm and 100 lm/W figure comes a 70CRI device over-driven at 2.5A – maximum current.
The maximum typical output is 5,600 lm from the 4,000K, 5,000K and 5,700K (85°C, 70CRI) versions at 1.2A (35.5V) where efficacy is 130 lm/W.
This drops to 3,875 lm and 90 lm/W for the 2,700K – which offers a remarkable 97 CRI typical (90min).
Thermal resistance is 0.19°C/W junction to case.
1211 is the last four digits of the part number – LHC1-xxxx-1211
CoBs can be screwed down and soldered to – making them luminaire-maker-friendly, and there are a variety of connector assemblies that both hold then down and connect to CoBs without solder – even more friendly.