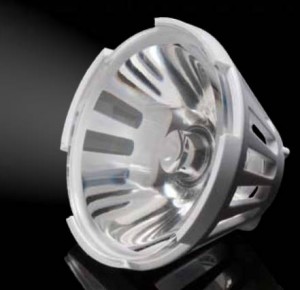 Called Crystal, beams down to +/-1.5° are possible.
There are two products: Crystal-RS and Crystal-Mine.
"According to mining head lamp specifications Crystal-Mine has 10% added illumination over the cut-off area," said Ledil. "In comparison Crystal-RS is designed to have a tight uniform beam and a maximum candela peak."
All credit to Ledil is due because the company has put led-to-collimator dimensions in the data sheet.
Without this, and almost no company reveals this critical distance without being asked specifically, it has to be discovered by accurately measuring a holder – which is prone to errors because of tolerance build-up.
In the case of Crystal/XP-G, this distance is 0.1mm from the rear face of the collimator to the top surface of the LED substrate – which would be slightly more useful, if the dimension was to the led mounting face – but it is so much better than no information at all.
Crystal-RS
Beam: real spot
Typical efficiency: 89%
Typical FWHM: 5.1° (+/-2.5°)
With Cree XP-G:   4.9°   89%   68.29cd/lm
Crystal-Mine
Typical efficiency: 90%
Typical FWHM: 4.9°
With Cree XP-G:  4.7°   90%   66.9cd/lm
Both
Height: 28.7 mm
Diameter: 49.7 mm
Optical grade PMMA
UL94 HB rated
-40 to +100°C