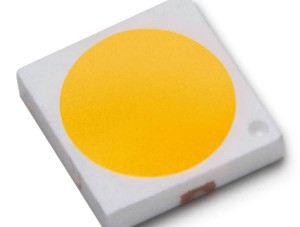 "Without hot colour targeting, if a user purchases an LED that was performing on a bin edge at room temperature, it would likely shift out of the specification at application temperatures and cause an undesirable shift in colour for the fixture," said product line manager Mark Chang. "Hot colour targeting remedies this problem by targeting slightly above the black body locus at room temperature. At application conditions, the colour temperature remains within ANSI specifications."
3030 2D is also being introduced with a 1/9th micro colour binning structure – customers can select 3 or 5-step MacAdam Ellipse for colour control.
"Designers can also pair different bins to hit a 3/4/5 SDCM colour point," said Chang.
These LEDs are aimed at retrofit bulbs, downlights, high bay luminaires, and low bay luminaires.
Packaging is epoxy moulded QFN.
Typical warm (2,700K) white performance is 87 lm at 80 CRI at 120 mA.
Cool white efficacy reaches 133 lm/W at 80 CRI and 120 mA.
"When driven at the maximum drive current of 240 mA, the 3030 2D can deliver 160 lm at 6,500K and 80 CRI," said Lumileds.
According to Chang. these figures are 10-15% up on the firm's previous generation of two-die mid-power emitters.
Earlier this month, Lumileds introduced an HV ('high-voltage') variant of its 3535 with similar colour binning for incandescent light bulb replacements.