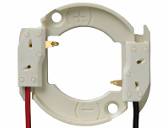 Molex revealed further solder-free LED connectors for light fittings at the Light + Building exhibition in Frankfurt, as well as board to board connectors for lighting, writes Steve Bush.
Molex's LED holders are intended for high-wattage array products where multiple die are mounted on a single ceramic tile, and are expected to be used in down, architectural and area lighting.
The holders reduce LED mounting and connection to screwdriver and hand work.
"Screw-down LED array holders eliminate the need for hand soldering or surface mount equipment," said Molex. "They create a solder-less electrical connection between LED array and power source to simplify the installation process and provide field serviceable benefits."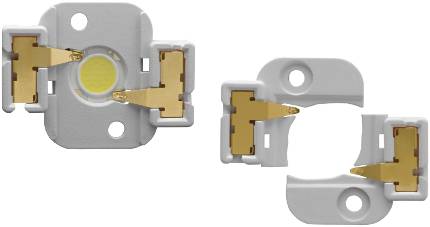 Joining existing holders for Citizen CLL-330 and CLL340 arrays, is a new one for Citizen's CLL010, CLL020, CLL030, CLL040 and CLL050 LEDs.
And for Sharp's arrays comes a holder for the 15, 25 and 50W Mega Zenigata LEDs, and one for 4-15W Mini Zenigata devices (photo up at the top).
The thermoplastic housings are intended for heat-generating environments and comply with UL 496.
Sample for Citizen are expected later in the spring.
The holders for Sharp have a double-ended releasable wire trap terminal, and for Mega Zenigata, Molex offers an optional LED protective cover that aligns with Zhaga specifications.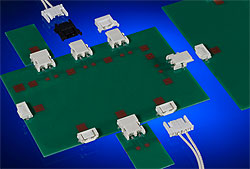 For LED office lighting, Molex is introducing the Flexi-Mate range of board-to-board and wire-to-board connectors.
Currently available in a standard two-circuit design, the connector features a dual-contact terminal design for secure electrical contact, and positive side locks for wire-to-board connectors.
"A mating guide on PCB versions facilitates smooth mating and protects terminals during mating and unmating," said Molex. "The system is available in low halogen and non-low-halogen material to meet various environmental and market requirements."