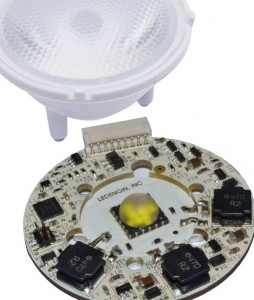 LuxiTune 2.0 allows users to separately adjust the CCT (2,100-4,300K) and light intensity.
"Tracking along the same tune curve, the existing halogen style dimming mode allows users to dim from 3,000 to 1,800K," said LED Engin. "In both modes of operation, the tune curves have been designed to stay a short distance below the black body locus throughout the tuning range, resulting in more vibrant colours."
V2.0 also has DMX control functions, including switching in between 'halogen dim' and 'CCT tune' modes.
Claimed consistency is within 3 SDCM (standard deviation colour matching) throughout the dimming range. "Thermal feedback control eliminates the known effects of varying light output over temperature and time from different colour dies, providing flux and colour stability over the life of the product," said LED Engin.
Flux is 1,100lm and efficacy is 63 lm/W at temperature including the secondary optic.
Full intensity CRI is 90, and average CRI over dimming is 85.
45mm diameter optics are available in 24°, 34° and 45° beams.
In the second quarter 2014, the firm is planning DALI control versions, and 700 and 2,000 lm versions.
See LuxiTune 2.0 at Light+Building next week in Frankfurt.