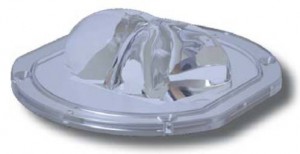 The material has been chosen for its: sustained transparency over years, resistance to yellowing, UV-resistance, optical efficiency, lack of birefringence, temperature resistance (-40 to 150°C, 200°C peak), and flexible at low temperatures.
Designed for streetlights, depending on the LED used, they can comply with IESNA Standards: Type I, Type II, Type III, Type IV, Type V, short or medium light distribution.
These are large beasts: 111x110mm and around 35mm high.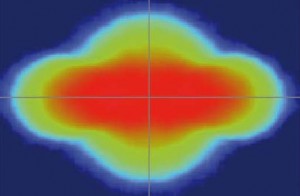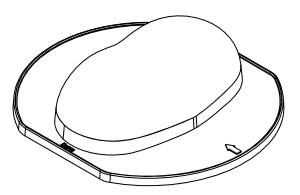 The one pictured above is the PL1765SR-Type I which makes a 150×135° beam (to 50%) from a 23mm diameter CoB (145×160° to 10%). See left and right for beam distribution and a line drawing.
Application is also expected in: parking areas, petrol stations, sport lighting, parks, gardens, pathways, canopies, shopping centres, offices, lifts, shop windows, and everywhere else…
"SIO3's immersion-proof hydrophobic property makes these lenses particularly fitting for damp and wet environments. Indoor pools are a typical application," said Khatod. "Also, their explosion-proof and shock-proof properties make SIO3 safe and reliable in hazardous environments such as mines. They do not shatter in the event of impact, flashover or vandalism." – so no need for a sealing gasket or protective cover.
They are designed and made in Italy.