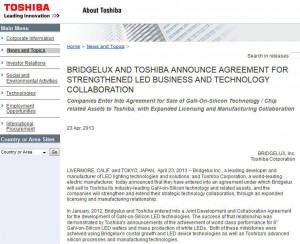 Bridgelux and Toshiba will continue to jointly develop GaN-on-Si leds even though Bridgelux has sold its GaN-on-Si activities to Toshiba.
Toshiba will make GaN-on-Si led die for Bridgelux.
Toshiba will own the Californian GaN-on-Si development team, which will stay on at Bridgelux' HQ in Livermore.
"Bridgelux will focus on commercialising, productising and bringing to market GaN-on-Si technologies alongside a proven global scale semiconductor manufacturer," said Bridgelux CEO Brad Bullington.
GaN-on-Si, if it can be made to work, is a way of leaving behind expensive sapphire, SiC and GaN substrates for the bulk of lighting leds.
Bridgelux and Toshiba entered into a GaN-on-Si joint development agreement in January 2012.
"The success of that relationship was demonstrated by Toshiba's announcements of the achievement of world class performance for 8" GaN-on-Si led wafers and mass production of white leds," said Bridgelux. "Both of these milestones were achieved using Bridgelux's crystal growth and led device technologies as well as Toshiba's advanced silicon processes and manufacturing technologies."
200mm is a big wafer to use for GaN-on-Si whose epitaxial layers tend to curl wavers.
For power transistors most manufactures are very happy to get 150mm GaN-on-Si wafers working.
"We will be able to accelerate the scaled manufacturing of 8" GaN-on-Silicon LED wafers, which will position both companies for strong growth in our respective led businesses. The GaN-on-Si technology that we acquire will also bring us a breakthrough for power devices development and production," said Toshiba v-p Makoto Hideshima.
Fabless Bridgelux will continue to develop and market its GaN-on-sapphire lighting leds.