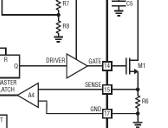 Two Californian chip makers have announced their first forays into dimmable power factor corrected LED drivers, writes Steve Bush.
Linear Technology has produced a single-stage flyback design and iWatt – fabless producer of low stand-by phone charger chips – has plumped for a more traditional two-stage topology.
Both are claiming +/-5% current regulation, >0.9 power factor, and isolation with no opto-coupler.
Dimmable in this context means that the chips are designed to work with wall dimmers previously installed for incandescent bulbs, which are far from ideal for dimming LEDs.
Linear Technology's offering is the LT3799, "specifically designed for driving LEDs from a universal input range of 90 to 265Vac" said Linear.
It is aimed at loads from 4W to over 100W, with efficiency up to 86%, and is compatible with triac dimmers "without any visible flicker", claims Linear, adding that it is also compatible with analogue voltage dimming.
PFC is up to 0.977, complying with IEC 61000-3-2 Class C lighting equipment harmonic requirements.
Open and shorted LED protection is included – as it is in the iWatt design.
iWatt's chip is the iW3614, intended to drive loads between 3and 15W, also from both 120 and 230Vac supplies.
Its first stage is a classic PFC boost converter (typically 0.94 power factor), followed by PWM driver stage "to reduce output ripple current and eliminate low-frequency flicker", said iWatt.
Both firms have gone out of their way to emphasise flicker-free operation, with iWatt claiming that some say it can lead to headaches and eye strain.
IEEE standards working group IEEE PAR1789 is looking into the effects of 100 and 120Hz flicker on people.
"The power savings that make LED lighting solutions attractive will be undermined if they cause significant health risks to the public," said iWatt CEO Ron Edgerton.
iWatt's design is compatible with both leading-edge (triac) and trailing edge ('transistor') dimmers
"Intelligent digital algorithms automatically detect all types of dimmers or a lack thereof, for flicker-free operation with existing wall dimmers worldwide," claimed iWatt. "In case of an unsupported dimmer, safe mode shuts it down."
The iWatt design only has eight pins, however two stages means two external mosfets compared with one for the 16 pin MSOP Linear Tech IC.
Read the full article >>