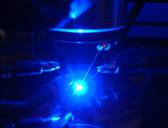 Plessey has acquired University of Cambridge spin-out CamGaN, and will be using its technology to make white power LEDs in Plymouth.
Its critical intellectual property is a way of growing LED-quality GaN on silicon substrates.
"This technology is the product of substantial R&D investment over the past decade and the plans for its commercial development within Plessey have tremendous potential," said co-inventor Professor Sir Colin Humphreys, director of Cambridge's centre for GaN.
It if can be done commercially, growing LED-grade GaN on silicon offers significant cost savings over the more costly sapphire and SiC substrates currently used.
"Our solutions harness novel, patent-protected technologies that increase the epiwafer throughput of standard MOCVD reactors by more than 40%," claimed CamGaN. "By increasing throughput without compromising quality, this technology offers the ability to decrease costs of LED dies by up to 80%."
Belgian company EpiGaN and Welsh wafer maker IQE also have GaN-on-Si technology.
"We believe this acquisition positions us among the first commercial players to successfully manufacture high-brightness LEDs on 6in. silicon substrates," said Plessey.
White outputs of 150 lm/W are planned for late Q4 2012.
This is a high efficacy. Is Plessey sure?
"The 150 lm/W figure is based on the normal benchmark of 350mA input current – 1W input. Hence we have to achieve >600mW light output, which is over 60% efficiency from the combined blue light output and phosphor conversion to white light," Plessey marketing manager Derek Rye told Electronics Weekly. "This is recognised as a challenging target, but one we believe is achievable by around the end of 2012."
 
First samples have peak emission at 460nm, said Plessey, and the technology extends to other wavelengths such as cyan and green.
The firm also announced plans to release a range of chips for lighting: "These smart lighting products will enable intelligent energy management, remote control, controlled dimming and automated response to ambient conditions."