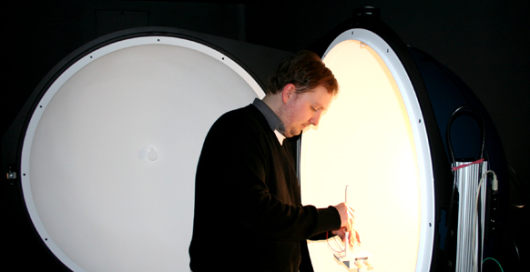 Photometric Testing has opened its laboratory which will provide specialist optical test and measurement services for LEDs, lamps and luminaires, writes Richard WIlson.
The Gloucestershire-based laboratory will provide test services to small and medium businesses in the lighting industry, and it has adopted specialist approach to LED testing.
"The testing has often been carried out using traditional photometers which are known to suffer from colour correction errors and which give misleading readings with LED sources," said the company.
For measuring luminous flux, chromaticity, colour temperature and colour rendering the company employs a 1m diameter integrating sphere with high resolution spectroradiometer detector.
The integrating sphere is designed to provide uniform collection of light from the device under test regardless of the beam distribution.
"The spectroradiometer ensures accurate flux and colour measurements regardless of the spectral distribution of the light source," said the company.
For measuring beam distributions and the variation of luminous intensity with angle, Photometric Testing employs an imaging goniophotometer.
"This provides for measurements of candelas versus angle and the generation of standard photometric data files in the industry-standard IES and LDT (EULUMDAT) formats," said the test firm.
"I look forward to serving customers in both the lighting and wider photonics and display sectors with responsive measurement services," said Dr Gareth John, manager of Photometric Testing.
The company also tests the luminance, colour and brightness uniformity of LCD as well as LED displays, and performs measurements of vehicle lighting and road traffic signs and signals.