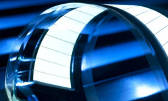 The EU has kicked off a project to make large-area OLED lighting modules with built-in intelligent light management, writes Steve Bush.
Large area OLED is one contender to replace fluorescent lighting, with sheets of light emitter under 1mm thick.
See also: LED technology – OLEDs (Organic light emitting diodes)
Called IMOLA (Intelligent light Management for OLED on foil Applications), the project is intended to spawn technology and demonstrators for future for wall, ceiling and car dome lighting, whose light intensity will self-adjust according to, for example, the time of the day or weather conditions.
"More R&D is needed to solve some outstanding challenges," said Belgian lab IMEC which is coordinating the project. "These areas, which mainly concern the driving electronics, power distribution, integration and miniaturisation, as well as sensors and application intelligence, will be tackled by IMOLA."
The elephant in the room with OLEDs is barrier layers.
Under perfect conditions, OLED materials are now lasting just about long enough for commercial use.
However, some of the layers needed to make efficient OLEDs structures are chemically-delicate and are rapidly corroded by the atmosphere.
Sandwiching them between two sheets of glass and hermetically sealing the edges is one way to keep them safe, but for cost reasons lighting firms want to print OLED on flexible plastic substrates using roll-to-roll machinery.
Plastic is far-too permeable to exclude damaging water and oxygen.
Getters – reactive layers that bind with moisture and oxygen before it can reach the OLED – can help, but what are really needed are coatings – barrier layers – that can be applied cheaply to block atmospheric ingress.
Intense efforts world-wide so develop such barrier layers have so far met with limited success.
Alongside IMEC in IMOLA are industrial and academic partners including: TNO/Holst Centre (Netherlands), Philips Technologie (Germany), NXP (Netherlands, Belgium), Hanita Coatings (Israel), Henkel Electronic Materials (Belgium), Centro Ricerche Plast-optica (Italy), and the FER department of the University of Zagreb (Croatia).
Project Objectives from European Commission website:
"The main objective of the IMOLA project is the realization of a large-area OLED-based lighting module with built-in intelligent light management.
The front side of the module consists of OLED tiles attached and interconnected to a flexible backplane foil. In an early stage of the project, individual tiles (on glass as well as on foil) will be used, but in a later stage OLED tiles on the roll will be laminated and interconnected to the backplane.
The backplane of the module contains the integrated driver electronics for the brightness control of the individual OLED tiles. A very thin and efficient smart-power chip converts a single 40V supply voltage into a controllable DC current for each OLED tile. This power converter chip employs an external passive component (inductor) that will preferably be embedded into the backplane foil. As the smart-power chip also allows the integration of dense CMOS circuitry, extra functionality and intelligence can be implemented on the chip. This includes optical feedback to eliminate non-uniformities between the tiles or to compensate OLED degradation effects. Other sensor functions can provide maximum interaction with the environment. Furthermore, advanced communication features, e.g. by means of PLC techniques across the power supply lines, can enable intelligent brightness control from a central unit.
Within the consortium, all necessary expertise is available to ensure perfect coverage of all technological aspects (such as OLED and backplane foil development, chip placement, electrical interconnect, component embedding and lamination) as well as all design aspects (driver chip design, inductor design and EMC) in this challenging project."