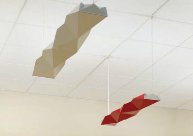 An interesting concept – origami-inspired LEDs. Offered in suspended and wall-mount versions, they are provided by Peerless, a designer and manufacturer of architectural luminaires.
They say they are designed "to be efficient, energy-saving luminaires with a broad distribution of light, Origami LED luminaires bathe ceilings with expansive, smooth gradients of indirect light and, in turn, uniformly illuminate work planes below".
"Powered by an advanced LED light engine, Origami LED is designed to deliver L80 performance for 50,000 hours (12-15 years) of normal use. When spaced 15 feet apart on-center in a 60′ x 40′ open office, Origami LED achieves a low power density of .76 watts per square foot while delivering 29 foot candles on a 2.5′ high work surface. With this kind of operational efficiency, commissioning Origami LED may contribute toward a building's LEED certification by helping to reduce overall energy consumption."
Further energy savings are possible, say the company, when Origami LED is specified with one or more of the following options embedded into the luminaire:
 
• A sensor that provides daylight dimming and/or dual technology (passive infrared and Microphonics) occupancy detection.
 
• A digital lumen management module that delivers constant lumen output, extends LED longevity and saves roughly 10% in energy use over the luminaire's lifetime.
 
• An nLight module that provides row, room, building or campus-wide network connectivity and control.