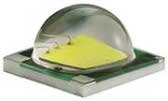 Don't miss the exhaustive look by our Technology Editor, Steve Bush, at the latest LED products hitting the market from Cree, Lumileds, Seoul Semiconductor, Osram, Nichia, and Sharp.
He begins:
All the major LED suppliers have released additional lighting-class LEDs over the past few months, particularly at the high-power end for light bulb and downlighter replacement.
ON Semiconductor is introducing a single channel LED driver tuned for low power applications such as portable handheld medical equipment, writes Steve Bush.
The CAT3661, which uses a patented architecture and integrates fault protection and fault diagnostics, is able to drive a single LED backlight with a current of up to 5mA. Soft-start current limiting and short-circuit protection make the new device ideal for use in equipment powered by coin cell batteries.
Cree's latest is the XM-L, sampling in 2,600K to 5,000K colour temperatures, with neutral whites predicted to be capable of 850 lm, and 84 lm/W, at 3.0A.

Incandescent bulbs are 10-15 lm/W, emitting at least as much as a 60W light bulb.

At 350mA, 3,000K (warm white) XM-Ls will deliver up to 113 lm and 117 lm/W, and 4,000K (neutral) up to 134 lm and 138 lm/W.

Double the current and 3,000K LEDs will hit 220 lm and 108 lm/W, and 4,000K will deliver up to 260 lm and 128 lm/W.
Read the full feature >>
Typical applications include low power backlighting for LCDs and backlighting for a wide range of portable handheld devices including medical equipment.
Packaged in a 16-lead TQFN package measuring 3x3x0.8mmh, the chip's quad-mode charge pump supports a range of input voltages from 2.0 V to 5.5 V and also helps achieve peak efficiency levels of up to 92%.
A typical quiescent current of just 150 µA across all operating modes at full load and a zero current shutdown help reduce power consumption.