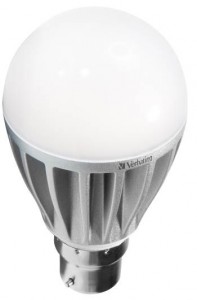 Which? is impressive because its reviewers don't just guess, it has its own test labs. It awards percentages to each item on test based on a bunch of parameters, then some of the best get 'best buy' rating too.
Boldly, some of the worst get 'don't buy' rated as well.
You will need a subscription to read the actual results, which I have not got.
According to Verbatim, brightness, light quality, energy efficiency, durability and power factor were assessed, and its 9.5W Classic A LED lamp actually produced 894 lm (860 lm rated).
This is gives 94 lm/W efficacy – particularly good it looks like this a 3,000K version and not a cooler colour temp (There is a slightly less efficient 2,700K version too). CRI is at least 80.
It comes in B22 (bayonet) or E27 (screw) fittings.
I have a couple of bulbs in front of me right now for comparison:
The 2700K 810 lm Osram needs 10W – 81 lm/W
The Focus Pro F6 hits 650 lm (>80 CRI) from 8W as an incredibly high (and therefore more efficient) 7,200-8,000K- 81 lm/W