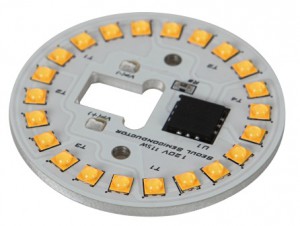 The 38mm diameter module is aimed at omnidirectional light bulbs which work with triac phase-cut dimmers.
MJT refers to multi-junction technology, where Seoul has found a way to make multiple series led junctions on one monolithic chip, eliminating the need to wire-bond multiple die in a package.
"This construction vastly improves the reliability of the led package since it reduces the potential number of failure modes associated with wire bonds," said the firm.
MJT 2525 is a 22V 40mA 2.5×2.5mm led, delivering 15 lm/mm2 in some versions.
The 3,000K 80 CRI type gives 95 lm and 105 lm/W at 40mA 25°C.
Dimming capability comes from the Acrich3 chip (6x6mm), which is powered directly from the mains. Not used in this module, it can also be controlled over wireless networks such as IEEE 802.15.4, Wi-Fi and Bluetooth, and has an auxiliary power output to feed suitable transceivers and sensors.
Supertex is another company that makes chips which can switches in and out strings of leds to make mains-powered lamps with no switching converter – CL8800 and CL8801.