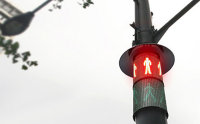 Thanks to Techeblog for highlighting this one – an innovative use of traffic signals involving LEDs. It writes:
Rather than install separate poles for traffic lights, why not put them on existing ones and/or trees? That's the idea behind this clever design by Gisung Han, Hwanju Jeon and Jaemin Lee. Basically, it "comes in two parts: a flexible LED belt that wraps around street furniture and a solar lid which protects it, shades it and powers it."
You can find more pictures on YankoDesign.