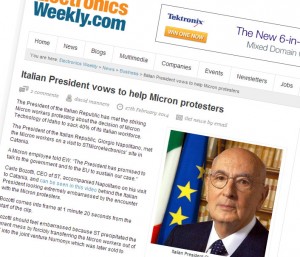 Forbes runs a curious article saying that the semiconductor industry in Italy is prone to strikes.
Now I've never heard of ST having a strike, and TI ran a fab at Avezzano for years without any strikes and after TI sold the fab to Micron in 1998 there were no strikes at the fab.
So where does Forbes get this curious notion?
Unfortunately, I find, it's from me.
Forbes quotes one of my articles about the Micron labour dispute. After Micron announced it was sacking 40% of its Italian workforce the sacked workers took four days off last month to protest.
This, is all the evidence Forbes relied on to publish an article to say the Italian semiconductor industry is prone to strikes.
The reputable American media are admired for their scrupulous attention to facts. They employ fact-checkers to make sure everything their writers allege is accurate.
So how did Forbes' editors allow an article to get published which said Italy's IC industry is prone to strike action based on the single fact of four days of protests last month?