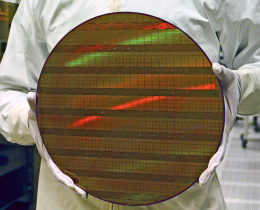 You spend three times more than anyone else on R&D, you have the most advanced manufacturing capability in the world, and you're lagging in an important strategic market.
So you leverage the R&D and the manufacturing advantage to make the most advanced chip in the world and win a crushing market share. Right?
Not if you're Intel.
Intel's latest LTE modem, the XMM 7260, will be made by TSMC on a 28nm process. Qualcomm is fabbing integrated SOCs including the LTE modem, apps processor and baseband on 20nm at TSMC.
That would be all right if LTE is not important to Intel, but it is.
Last year Intel's share of the baseband processor market dropped to 8% from 12.3% in 2012. The reason? Because the market moved from 3G to LTE.
Intel says it is expecting a decline in baseband processor revenues this year despite a sharp ramp in the market as everyone moves to LTE.
So it was vitally important that Intel use all its resources to succeed in LTE including making LTE chips on its most advanced processes.
But it didn't.
Despite spending $10.6 billion on R&D last year, and another $10.5 billion on new factory processes, Intel fell behind the leaders in mobile chip design and mobile chip process technology.
Which presents Qualcomm a generational lead in mobile SOC design with the baseband, apps processor and modem all integrated.
And also presents Qualcomm with a generational lead in process technology with the move to 20nm.
Although ARM is expecting mobile SOCs on TSMC's 16nm finfet process this year, Intel is not expecting to put a mobile IC on its 14nm process until 2015.
Understanding Intel's mobile strategy is like trying to understand a riddle inside an enigma wrapped in a mystery.
Intel disdains to use its R&D strength and its manufacturing strength to make mobile ICs and instead appears to pursue a strategy aimed at failure. Why?
My personal theory is that the internal workings of Intel are such that an Intel CEO, any Intel CEO, doesn't have the clout to optimise the company's leading-edge process for mobile and insist that mobile chips are made on that process.
If the CEO can't deliver this, is this a sign of a dysfunctional company?
Some might say so.