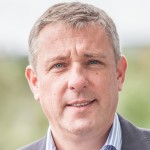 Q1. Do you believe that the optimism in the UK economy is good news for the electronics sector?
Steve Kelly: The optimism within the UK economy is without doubt good news from both a national and international perspective.
It all adds to the momentum that we feel currently exists within the UK innovation sector. Grant funding bodies within the UK are highly organised, focused and very receptive.
Additionally, private equity finance is easier to obtain due to this sense of optimism and with the added incentives of schemes such as Seed Enterprise Investment Scheme (SEIS).
This sense of optimism also pervades overseas; our customers are predominantly OEM and chemical companies within Asia, and a sense that our economy is one of the fastest growing presents a sense of security in both the our companies future and security of product supply.
Q2. What is the biggest opportunity you see for the industry as a whole?
Steve Kelly: Printed electronics, after many years of being touted as the next big thing, has without doubt turned a corner on path to full scale commercialisation.
We have been focused on market- driven applications where serious market traction existed, the most significant of which is printed, flexible drive electronics for flexible display manufacture. With the initial launch of LG's and Samsung's curved mobile phones in late 2013, it is expected that this is a precursor to a range of new-form factor products for mobile devices such as smartphones and tablets.
For suppliers in the printed electronics industry, this is the most significant sector for growth in 2014 and beyond. This not only applies to material suppliers, such as SmartKem, but also to production and test equipment manufacturers as well as a range of IP license opportunities as the UK's academic and research institutes are widely recognised in Asia as world beaters in scientific and technical creativity.
Q3. What is the main threat to the industry?
Steve Kelly: From the perspective of flexible drive electronics for the flexible display industry, the main threat is the uncertainty of exactly what flexible display based product/s OEMs and brands should invest in and release first.
The possibilities offered by flexible display technology are so wide ranging, careful consideration needs to be given to these initial product releases, i.e. the first flexible display-based products need to be a real killer that will drive traction within the sector and pave the way for confident product and application evolution.
Another consideration is which products and applications will allow the most substantial IP position to be established. This risk may well cause some companies to be overly cautious about developing and launching new flexible display-based product.
These factors may go some way to explain the rationale behind Samsung's recent "ideas" competition to crowd source concepts for flexible display based applications.
Firstly, it allows them to gauge market interest and secondly, allows the formation of an IP portfolio in an area where imagination is really the only limitation to product application.