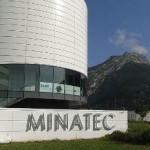 On the same day I received this press release from CEA-Leti, the French government-funded research centre, I heard an announcement that the Prime Minister believed: "This is a world on fast forward, a world of permanent technological revolution", and that the internet-of- things (IoT) was the biggest opportunity in electronics.
This was followed, last week, by another technology strategy from the government and another buzz word "big data".
If we are lucky the government will make £80m of public investment available.
This high tech strategy, if that is what we can call a few sound-bites and headline-catching promises of tax-payers' money, will not help the UK's microelectronics sector to create globally competitive businesses or support engineering job creation.
The Prime Minister could learn from the French.
The French government is supporting the creation of a number of collaborative research programmes in areas such as 3D semiconductor research, automotive electronic systems and nanotechnologies for smartphones.
This is a 10-year microelectronics programme into which the French government is putting hundreds of millions of euros.
At the heart of many of these programmes is the Grenoble-based microelectronics research cluster known as the Institute of Technological Research (IRT).
In comparison the UK seems to have a national technology policy which seems to be guided by what catches the eye of BBC news editors… this week.
Related news:
Mentor, ST and CEA-Leti part of French chip research plan
Turing Institute will research big data