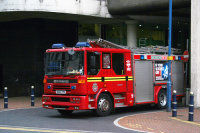 This post is by Chris Rouse, Safety Manager at TRaC.
We all use a large number of electrical items that work reliably and safely every day. As problems are so rare many people get blasé about the need for electrical safety regulations, but recently I saw some sobering statistics.
I was shocked to see UK government figures showing 17% of all fires in domestic premises in England and Wales are caused by electrical faults (resulting in 15 deaths and around 1100 non-fatal injuries).
The HSE also reports that around 1000 electrical accidents at work occur each year and around 25 people die of their injuries.
In addition to the human cost of these faults and accidents, companies are vulnerable to legal action if their equipment is faulty.
Regulations such as the Low Voltage Directive, 2006/95/EC and NRTL certification scheme in North America may seem bureaucratic, but as someone who works every day in the test and certification industry, I feel a little bit safer knowing that these tests will eventually reduce the risk of fires and accidents.
(Picture – Fire engine by Pedro Kwezi, under Creative Commons Attribution Licence)