'Space' camera wins Raspberry Pi competition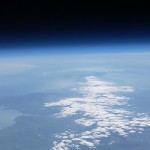 A $25 Raspberry Pi and camera module has survived in the Earth's upper atmosphere and won element14's Raspberry Pi camera competition.
David Akerman used a weather balloon to fly his Raspberry Pi and camera module up into the Earth's stratosphere to capture the stunning image of Devon and Cornwall in the UK from a height of 38.9km.
The others finalists included Tyler Crumpton with his image of hot air balloons in Alabama, US and Mike Cook's cross section of the tongue of a common frog.
"Since I took the first image I've flown six Raspberry Pi missions, mostly using a webcam to take photos for transmission down to the ground, but more recently using the new Pi Camera. The images I can now capture are much better quality than before, plus the savings in weight and power mean my flights can go far higher," said Akerman.
The prize are accessories for Raspberry Pi including the Pi-Face, Gertboard, XBMC kit and the Embedded Pi.

Related Tech News
Share your knowledge - Leave a comment