Twitter gets a new look for ElectronicsNews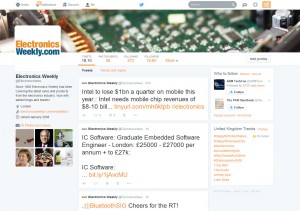 Twitter has updated its user interface and profile pages. Check out the new look. I think it is an improvement.
All an excuse, of course, for me to say 'Please follows us on twitter!'
Our handle is ElectronicsNews (ElectronicsWeekly exceeded twitter's allowed character count!)
We currently have more than 16,5000 followers, so please join if you haven't already, and keep on top of the latest news and blog posts as they break!
What do you think? Leave a comment below.

Tags:
twitter
Related Tech News
Share your knowledge - Leave a comment