The official ElectronicsWeekly.com website blog, highlighting new features, content, and initiatives on the site.
Photo Gallery: Elektra Awards 2013 attendees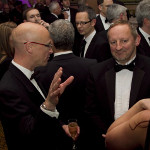 Check out our photo gallery from the recent Elektra Awards 2013, presented at a Gala Dinner at the Grosvenor House, Park Lane.
Can you spot yourself, or a friend or a colleague?
Elektra Awards 2013 Attendees »
This established annual highpoint of the electronics industry, was hosted by comedian and author Tony Hawks, and watched by a large and enthusiastic audience representing all sectors of the industry. Congratulations to all the winners, and thanks again to all the sponsors who make the event possible!
We hope an enjoyable evening was had by all.
See also:

Tags:
Elektra Awards 2013
Related posts