What caught your eye this week (Week 6)?
The Electronics Weekly team share their picks of the week, in terms of announcements, developments, product releases, quotes or anything else in the wider world that caught their eye in the last seven days…
David Manners, components editor
…It was Intel's move into wearables.
Sue Proud, production editor
This one is a bit of a juvenile and sniggery 'this caught my eye', because it has toilets, and 'waste cooking' (eugh!) and the Great Philanthropist (aka Microsoft founder Bill Gates reincarnated from hard-nosed businessman to all-round good guy) combined under the banner of solar power. Really that's a story that has everything.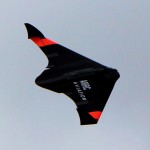 Alun Williams, web editor
…3D printing of UAVs by the University of Sheffield, emerging from its Boeing-backed Advanced Manufacturing Research Centre. Rather ominously, for me, it promises unmanned aircraft that could be disposable and sent on one-way flights for delivery, search or reconnaissance purposes.
What caught your eye this week? Let us know on twitter using the hashtag #EWconvo

Tags:
Intel
Related Tech News
Share your knowledge - Leave a comment