The official ElectronicsWeekly.com website blog, highlighting new features, content, and initiatives on the site.
Electronics Salary Survey 2014 – Sector by sector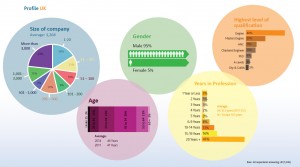 Don't miss the latest Salary Survey article we have just published – see Salary survey – Part III – Comms sector leads manufacturing
We were very glad to get more than one thousand UK respondents, and this has let us drill down in more detail on a sector-by-sector basis…
Richard Wilson begins:
One third of respondents are earning over £50,000 per annum, while fewer than 10% are taking home less than £25,000.

Salary levels are above the average in the communications, consumer and components sectors. Engineers, sales staff and managers working in the communications sector are the most highly paid, with an average salary of £52,594, over £6,000 per annum above the industry average and only slightly more than staff working in what they call the 'consumer electronics' sector, where the average salary is £51,398.
See also: Salary Survey 2014 – Part II – Location, location, location
See also: Electronics Weekly Salary Survey 2014 – The results, part I

Tags:
Electronics Salary Survey
,
richard wilson
,
salary levels
,
salary survey
,
Salary Survey 2014
Related Tech News
Share your knowledge - Leave a comment