Only Connect: A guide to cable screening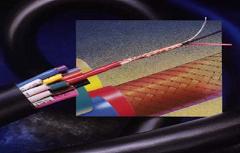 Welcome to another post in the series by Nick Locke, of Nicab Ltd, who has over 15 years experience in the electronics manufacturing industry specialising in interconnection cable assembly.
The giant that is Belden Cables has produced a fantastic guide to Cable Screening, giving you a simple yet detailed guide on all you need to know about cable screening.
Although you probably think you know all about cable screening, I GUARANTEE that after reading the guide you will have learnt something new.
If you are designing a new cable assembly or simply want to understand a little more about screening options then this easy guide will help you to make better decisions on what cable to use.
I also find these guides an interesting point of reference, as sometimes it is easy to forget what screen is best. For example, why would you use a braid screen over a spiral screen?
If you know the answer, you don't need the guide. But if like most people you can't answer this right away then this guide is definitely for you.
Nick Locke, Nicab Ltd