Only Connect: OM4 Fibre Optic Cable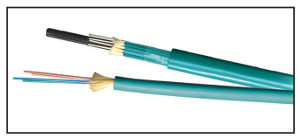 Welcome to another post in the series by Nick Locke, of Nicab Ltd, who has over 15 years experience in the electronics manufacturing industry specialising in interconnection cable assembly.
A question I am being asked more and more is what is the difference between OM3 and OM4 Fibre Optic Cable?
Because you just can't get enough of the internet – people love to watch films on-line and all the other bandwidth hungry applications – technology must evolve to keep up with you.
OM4 has the same characteristics as OM2 being OM3 being 50/125. OM4, however, is capable of delivering higher bandwidth over longer distances.
As an aside, not that there is an important difference between OM2 and OM3 and OM4 fibre. The latter are optimised for VCSEL light source – that is why laser optimised fibres are specified using Laser Bandwidth, or EMB.
Another question I am asked is "Should I be using OM4 Patch Leads because it's better than OM3?" This answer is only if you have an OM4 infrastructure, otherwise it's like putting Super Unleaded into a reliant robin in the hope that it will go as fast as a Ferrari. Any network will only run as fast as it's weakest link.
In addition to this, the real difference between OM4 and OM3 is only realised over longer distances. So with most patch leads typically being anywhere between 0.5M and 20m, it is unlikely you will see any real benefit to OM4.
Where does OM4 make a real significant difference? If you run a data centre where your services rely on the highest possible speed then OM4 is a must. However, you will have the full OM4 infrastructure – you will be giving your high end devices the best possible chance to achieve the very highest level of bandwidth possible.
Image: Belden OM4
Nick Locke, Nicab Ltd