The official ElectronicsWeekly.com website blog, highlighting new features, content, and initiatives on the site.
Only Connect: A manufacturer leads the online the way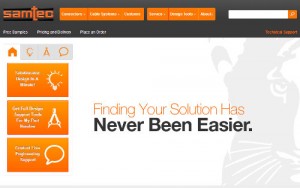 Welcome to another post in the series by Nick Locke, of Nicab Ltd, who has over 15 years experience in the electronics manufacturing industry specialising in interconnection cable assembly.
One of the reasons that Samtec was voted #1 by it's customers is because it helps them by giving the information they need fast.
Their website is a prime example of what a website is for, providing both product and helpful information. Many manufactures get the wrong idea about what they should put on their website by focusing on product catalogues but that is not what people really need.
We need information on how to use the products and how to make decisions on the correct products. And Samtec delivers a lesson on getting the balance right.
There are three reasons their website stands out:
Simplicity. The website is simple because from the start you are given a few options to choose, which are product information, technical support (chat) and tools such as 3D cad models and Jargon busters.
Ease of use. The trick to great websites is to make it easy to find what you want. Samtec have a great tool for finding the right connector system and technical information. Navigating through the site is easy and had clear delineated lines you travel down to take you to the information you are looking for.
Loads of free helpful information. This is the best bit of all. I am a massive fan of useful information simply because I do not know everything and need to constantly lean about products and the way Samtec delivers the information makes it easy. The point of all this is that I want to know what the connector does and what I should use it for, i.e. data power, etc.
Remember the 1989 film Field of Dreams? 'If you build it they will come,' was the line everyone remembers and we think the same for websites. But a new line should be, 'If you build it will they stay?' That is the point, as keeping people on your website means you are more likely to keep them as customers.
All designers and engineers need you to help them and not to assume they know everything already. So give more information and help your customers by delivering more technical support and you will get more customers. It is why Samtec is consistently voted #1!
Nick Locke, Nicab Ltd

Tags:
Only Connect
Related posts