Video: Picking and placing a Raspberry Pi – Made in the UK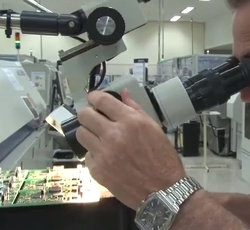 I'm really pleased with this one – Electronics Weekly sent the Metropolis "video man", Dave Berman, to film Raspberry Pi dev boards being made at the Sony manufacturing facility in Pencoed, South Wales. And I think he's done a great job. Interesting in its own right, and a good historical record.
As well as interviewing Gareth Jones, Senior Manager New Business Development at Sony Uk Tech, and Claire Doyle, Head of Raspberry Pi Global Division at Element 14, he films the full production process.
See how a Raspberry Pi is made from beginning to end, from loading the circuit boards to final visual inspection.
Steve Bush, our Technology editor, writes:
The little computer gave Sony its first opportunity to handle package-on-package assembly – Raspberry Pi's main RAM is stacked onto the CPU during production. Both chips are the same size and, as well as pads on the bottom, the CPU has pads on top to accept the RAM.

Automatic visual inspection is used extensively. For example: following screening (not shown in the video) solder paste is examined by both 2D and 3D camera systems before the boards move on to pick-and-place.
Read the full news article – Video: How they make Raspberry Pi in the UK