Taking a different look at CERN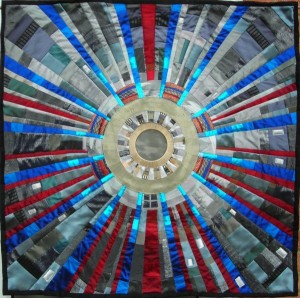 A friend was enthusing about some amazing quilts she had seen – yes, I said quilts.
You might recognise the image used as the source for this one: it's by Kate Finlay, who was inspired after seeing images in a newspaper report about the Large Hadron Collider (LHC) at CERN.
She has made more works based on images of the LHC, and her work is to be exhibited at CERN in May 2014.
Meanwhile The Science Museum is presenting an exhibition about the LHC in November that it describes as an immersive experience, and one of the images on its website is captured in another of Finlay's quilts.
More images from CERN's 2013 open days can be viewed here.