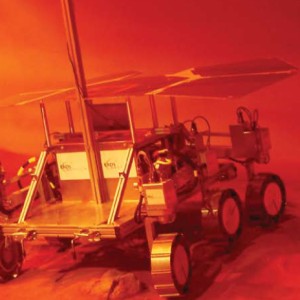 Come and meet "Bridget" at Embedded Live. She's bound for Mars and is being developed by Astrium under an ESA-NASA cooperation programme. Yes, she is the development version of the first European Mars rover, packed with embedded technology…
With team members from the ExoMars programme present, you'll get a chance at the show to see the flexibility and manoeuvrability of the Mars Rover Design in action. 
Apparently, the rover's primary task will be to search for evidence of life, past or present, beneath the surface of the Red Planet. It will also collect data to identify potential risk factors for future manned missions, determine water distribution on Mars, and analyse the chemical composition of the planet's surface.
The ExoMars programme will see two missions travel to Mars in a joint ESA-NASA undertaking.
In 2016 an ESA-led mission will consist of an orbiter to study methane and trace gases in the Martian atmosphere and an Entry, Descent and Landing Demonstrator Module (EDM) to test key technologies for future missions.
 
In 2018 a NASA-led mission will carry two rovers to Mars, one from NASA and the other from ESA. The rovers will travel together in the same aeroshell to land at the same destination on Mars.