Active bridge – a new one appears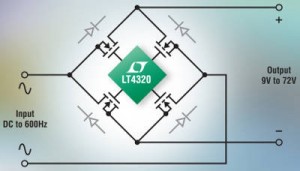 Would you believe it. You mention active bridge rectifiers, and the patenting of old ideas, and three days later a genuinely new active bridge turns up.
This one is a chip, the LT4320, that turn's four n-channel mosfets into an active bridge.
To get enough voltage onto the gates of the top pair of fets, there is an on-chip charge pump that does not need off-chip capacitors.
Quiescent current is 1.5mA.
Frequency range is 0-600Hz, and there is another version for 0-60Hz.
Output can range from 9 to 72V (assuming the mosfets can take it).
Current is anything the mosfets can cope with, providing their input capacitance is not too huge.
It does need a couple of output capacitors – a ceramic (for, I am guessing, stability) and an electrolytic.
I assume that the chips own power comes from the output, and it will stop working if the output droops too far.
The best thing is (and I am trying to get in touch with Linear to confirm this and a few other things), is that it seems to be reverse-blocking, which means a battery or large capacitor could be hung across the output.
While the old 'two p-fets plus two n-fets' design is simple and draws only the gate charge current each cycle, it is not reverse-blocking, so an output battery gets shorted back through the rectifier.
Very nice Linear.
1 Comment