Book review: Raspberry Pi User Guide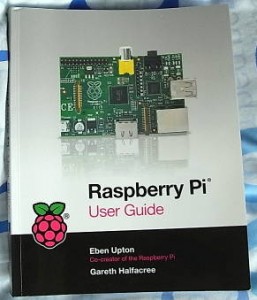 Another clearly-written and informative Raspberry Pi book – the other one I used recently is Raspberry Pi for Dummies.
This one, which was published first, is co-written by the Raspberry Pi Foundation's very own Eben Upton.
Again it is suitable for complete beginners, and it covers similar ground: how to get started, web browsing, playing music and videos, writing simple programmes, attaching circuits that do real stuff – including example circuits, and lots more.
I would say that this book has more about how to use and configure the Pi through its terminal window, and as such is a better grounding for those who want to get at the nuts and bolts of the machine.
For example: it tells you how to make the Pi adopt a certain screen resolution if your screen is not auto-recognised, how to re-partition the ram, and it has more about the signals and interfaces available to external hardware.
The Dummies book has more on writing games, and a step-by-step example of hand making gamer-friendly external interface hardware for another game.

Related Tech News
The wise Mr Kurt has drawn my attention to a puzzle from the New York…more »

There was a time I went to ISSCC (the International Solid-State Circuit Conference) in San…more »

Without a TV, I miss a few things – and…more »

My word. There is a phone-charging fuel cell on Kickstarter,…more »
Share your knowledge - Leave a comment