Display-less camera attaches to phones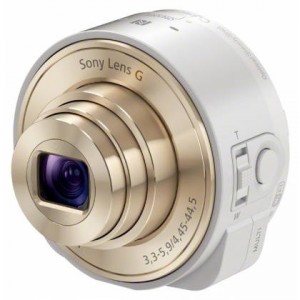 Cameras on phones are eating away at the camera market, despite offering photos that are only good under limited circumstances.
Sony has a neat way of fighting back, with a phone accessory that is a display-less camera.
With the phone providing the display and processing, the camera shrinks down to little more than a lens in size.
Called QX10, the display-less camera works with any Android phone or iPhone, and is entirely wireless (Wi-Fi Direct) so it need only be near the phone – although a clip is provided to hold the two together should that be desired. Pairing is made easier if the phone has NFC.
The camera has a 10x optical zoom (35mm equiv of 25-250mm in 4:3 mode) and image stabilisation, and HD videos are possible.
The lens is f3.3(wide) to f5.9(zoomed) and there is a 18Mpixel '1/2.3′ (7.76mm) sensor backlit CMOS sensor. The whole thing weighs about 100g.
Zoom, focus and speed are all controlled through the phone's touch screen, and some of them can be set by controls on the camera body.
It costs about £180, and there is a £400 version called the QX100 with much less zoom range, but a much larger (25mm) sensor.
2 Comments