The Great Egg race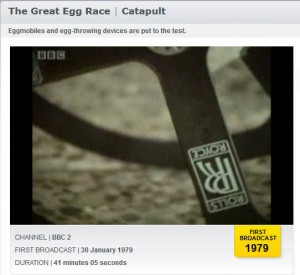 A comment form the wise Steve K (scroll down) put me in mind of a series of BBC 2 programmes from the late 1970s and early 80s.
Called The Great Egg Race, they were engineering competitions made before the days when TV programmes had to have artificial jeopardy, macho posturing, and at least one contestant with a mental illness.
In each case a bunch of people, mostly engineers and in one case a psychologist, make machines to solve certain problems.
The standard format was to solve a problem over a single programme, but I am picking out this episode because it features jewel-like machines, constructed off camera, that carry eggs hundreds of metres, each powered by single small elastic band. It ends with the world championship at the Ontario Science Centre in Canada – where the egg-carrying format was invented.
This programme explained the eggmobiles in more detail.

Related Tech News
Share your knowledge - Leave a comment