Luxeon Lime arrives – thanks to Lumileds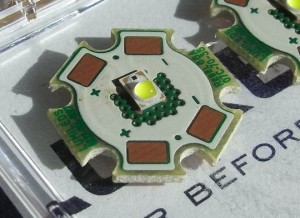 Having written about Lumileds' 200 lm/W Luxeon Lime,  the most efficacious LED yet because its output is close to eye maximum sensitivity, I asked for a couple of samples.
And here they are.
These are the first LEDs I have seen on ordinary FR4 PCB substrates using Lumiled's 33 thermal via pattern.
In this case, it is 1.6mm FR4, which as far as I can see means 16K/W junction to heatsink. With 0.8mm FR4 this would 10K/W.
Application brief 32 deals with this heatsinking.
Now, all I need is some spare time to make up a mounting to try them.
Fingers crossed.

Related Tech News
The wise Mr Kurt has drawn my attention to a puzzle from the New York…more »

There was a time I went to ISSCC (the International Solid-State Circuit Conference) in San…more »

Without a TV, I miss a few things – and…more »

My word. There is a phone-charging fuel cell on Kickstarter,…more »
Share your knowledge - Leave a comment